Based on Microsoft's VHD technology, our image management solution addresses the need for centralized Windows-based client management. Hence, Eboot is one of the most efficient solutions of its kind on the market.
Easy to use
Our image management solution's UI is very intuitive and simple to use, so every task is done in an easy manner. The usual 80-to-20 maintenance-to-innovation ratio is actually reversed. Therefore, less time is spent on maintenance and there's more time to spend on innovation.
Initial setup takes less than 1 hour.
Fast Deployment Time
The average deployment time of our image management solution, calculated from booting up the server, installing it and successful deployment to 20 clients is less than 2 hours.
Typical solution deployment time for one client is about 5 minutes.
Deployment on multiple clients can be done in parallel.
Scalable
There is no limit on the number of managed clients per server. However we recommend up to 40 clients per Gbit port.
Our image management solution scales with multiple NICs on one server.
As a result, update deployments usually take about 10 minutes.
Stable
By using modern programming techniques, together with continuous and rigorous testing, our image management solution should be correct by design.
Also, our Support Department handles eventual bugs, crashes, etc. with utmost diligence.
Total Cost of Ownership
Our image management solution brings up to 70% upfront lower licensing costs, up to 50% lower hardware costs (including lower power and cooling requirements = lower electricity needs and bills) and lower overall maintenance costs (translated into less labor/hour costs).
All-In-One
Unlike other products on the market, our image management solution includes all features in one package.  Therefore, there's no need of buying and combining different modules to get the same result: a managed environment.
Active Directory Integration
Our image management solution joins the clients to the existing company domain and maintains this membership, even if a different Windows image is loaded.
Compatible and Affordable
Our image management solution can run on most 64-bit architectures. Consequently, there's no need for dedicated server hardware requirements, thus Eboot being one of the most affordable image management solutions on the market.
Quality of Support
We have a skilled and experienced team of software professionals, in order to offer complete solution support, whether it's deployment, maintenance or troubleshooting.
Education
For example, multiple images based on software packages based on particular disciplines can exist simultaneously on the same machine or they can be downloaded from the server within minutes.
Switching between deployed images is done within minutes (for instance, during breaks).
Government
Due to its scalability, our image management solution controls from tens to thousands of clients from a single pane of view.
Required updates and clean OS image deployments are scheduled easily and executed accordingly.
Companies
Updating the client environment with the latest image through our image management solution has never been easier.
Furthermore, deployment of the new snapshots containing the required updates is done in matter of minutes, while running.
For example, call centers are great candidates for our solution.
Eboot features vs the competition
Eboot

Acronis

Snap Deploy

SmartDeploy
On-premises dedicated "server" app installation
Centralized multiple image storage and management on the server app
No additional third-party license requirements for "server" app installation
Multiple OS images on the same machine for easy switching
Wired and wireless client-server connection
Supported OS imaging: Windows 7, 8.1, 10, all editions
All-in-one licensing model
Perpetual- and subscription-based licensing
Complete solution support in Romanian and English
Notes:
*1: SmartDeploy requires an internet connection to its website for account creation and installation package download.
*2: Acronis Snap Deploy requires a particular license to be purchased for multiple OS images on the same machine.
*3: Acronis Snap Deploy is available only as perpetual licensing, SmartDeploy is available only as a 1- or 3-year subscription.
Our current image management solution works deployed on-premises, standalone or integrated with Active Directory.
For the optional Active Directory integration, the Domain Controller has to run on Windows Server 2008 R2 or later.
The cloud-hosted version will be released in the future.
Recommended server configuration
Clients change booted images rarely, all images are available at all times
Less than 20 clients
4GB RAM
1TB HDD
1 GB Ethernet port
More than 20 clients
8GB RAM
2 TB HDD
2x1GB Ethernet ports
Clients change booted images frequently, these are rotated in and out of existence on the clients consistently
Less than 20 clients
2GB RAM
512GB SSD
1 GB Ethernet port
More than 20 clients
4 GB RAM
2 TB SSD
4x1GB Ethernet ports or 1x10GB Ethernet port
Recommended client configuration
Our image management solution supports the following operating systems: Windows 7, Windows 8, Windows 8.1, Windows 10, both Pro and Enterprise versions.
The recommended client hardware is: Gbit port for fast image downloads, 4GB of RAM (or higher for multitaskers) and HDD. However, 8GB of RAM or SSD assure best performance.
Eboot functionality diagrammes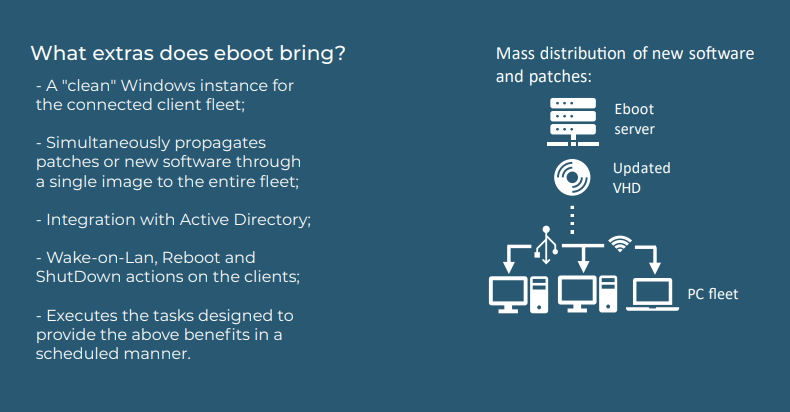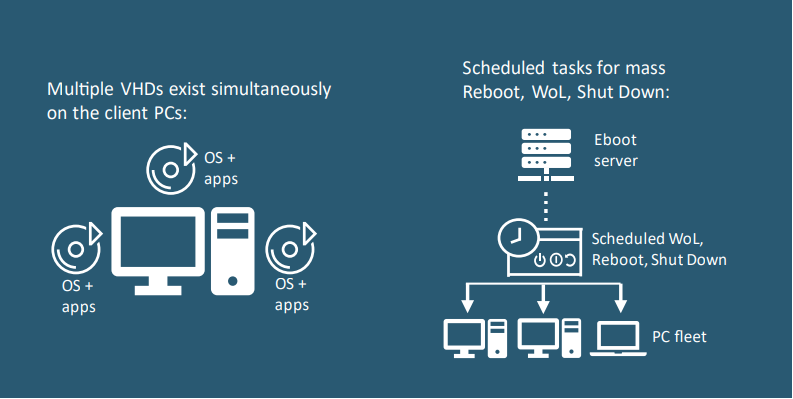 Support
For our image management solution, we offer the following services: deployment, maintenance and troubleshooting.
These services are based on a ticketing model: the 1st ticket is free for every new client. Access to supplementary tickets is available for a fee, either one at a time or in bundles of 5 or 10 tickets.
Delivery of these services is made by phone and email.
Licensing
Our image management solution's licensing model is based on the number of concurrent connections to the server. For example, if a client (physical machine) connected to the server runs (at least) an additional virtual machine which connects to the server, an additional license is required for every virtual machine connected to the server.
The license allows client connection to the server and image management.
We are not culpable for end users violating the licensing rules of the software included in the images, because the management of those licenses is the sole responsibility of the end users.
For pricing inquiries, please contact us at sales@eboot.io.
What's the size of the snapshots containing the changes?
Rus Ciprian
2017-09-15T07:54:10+00:00
The size varies, depending on the changes to be implemented, hence, we cannot estimate a theoretical size.
Our partners
We are expanding our partnerships worldwide. Our current partnerships:
Romania:
Romsym Data S.R.L.
Address: No. 108A Popa Nan St., Bucharest
Phone: +40 21 323 1431
Contact us
We appreciate your questions, enquiries and feedback about our solution. You can get in touch with us:
pay us a visit:
84 Moților Street
400370, Cluj-Napoca
Cluj, Romania